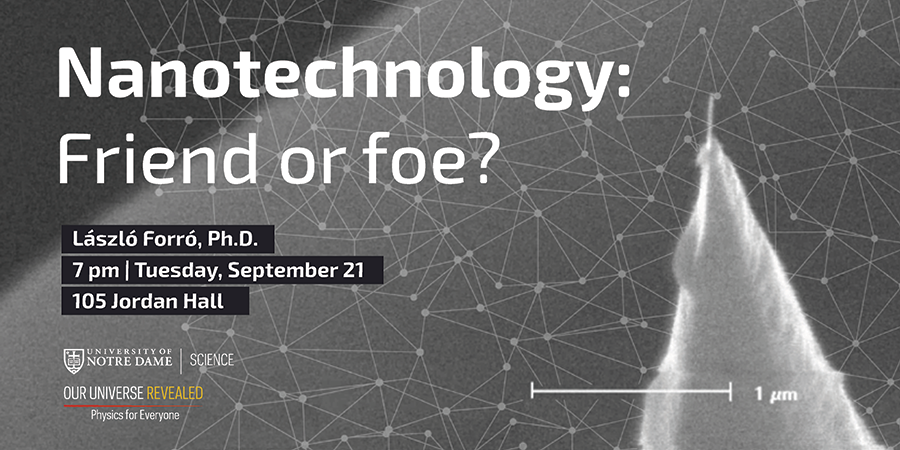 Prof. László Forró, Aurora and Thomas Marquez Professor of Information Theory and Computer Technology
Tuesday September 21st 2021 - 7:00 pm ET
105 Jordan Hall of Science
Nanotechnology has the potential to solve today's major challenges in the sectors of energy, information technology, health, and environment. However, it can generate fear and distrust: some nanostructures look like asbestos, the idea of nanobots sounds too futuristic, and newly developed molecules are not time-tested.
Join us to see nanotechnologies through the eyes of a physicist, and learn how they can advance breakthroughs in the sciences, from biology to materials science.
---
For the safety of everyone attending, all events will be held in line with the University visitor policies:
​V​isitors are strongly encouraged to be vaccinated.
Regardless of vaccination status, visitors must wear masks inside campus buildings and at any other time designated by the University.
​Events will be held in large lecture theaters to promote social distancing.
​See https://covid.nd.edu/policies/visitors-policy/ for more details.
---
We will also broadcast this event live via our Youtube Channel and Zoom:

Our Universe Revealed Youtube Channel [unlimited viewers] – https://www.youtube.com/OurUniverseRevealed

Connect using Zoom (instructions for how to install the Zoom client and connect to the talk can be found at https://bit.ly/2xbGZVs) – https://notredame.zoom.us/j/97890956656 (Meeting ID is 978-9095-6656, Password: NDUniverse).
---