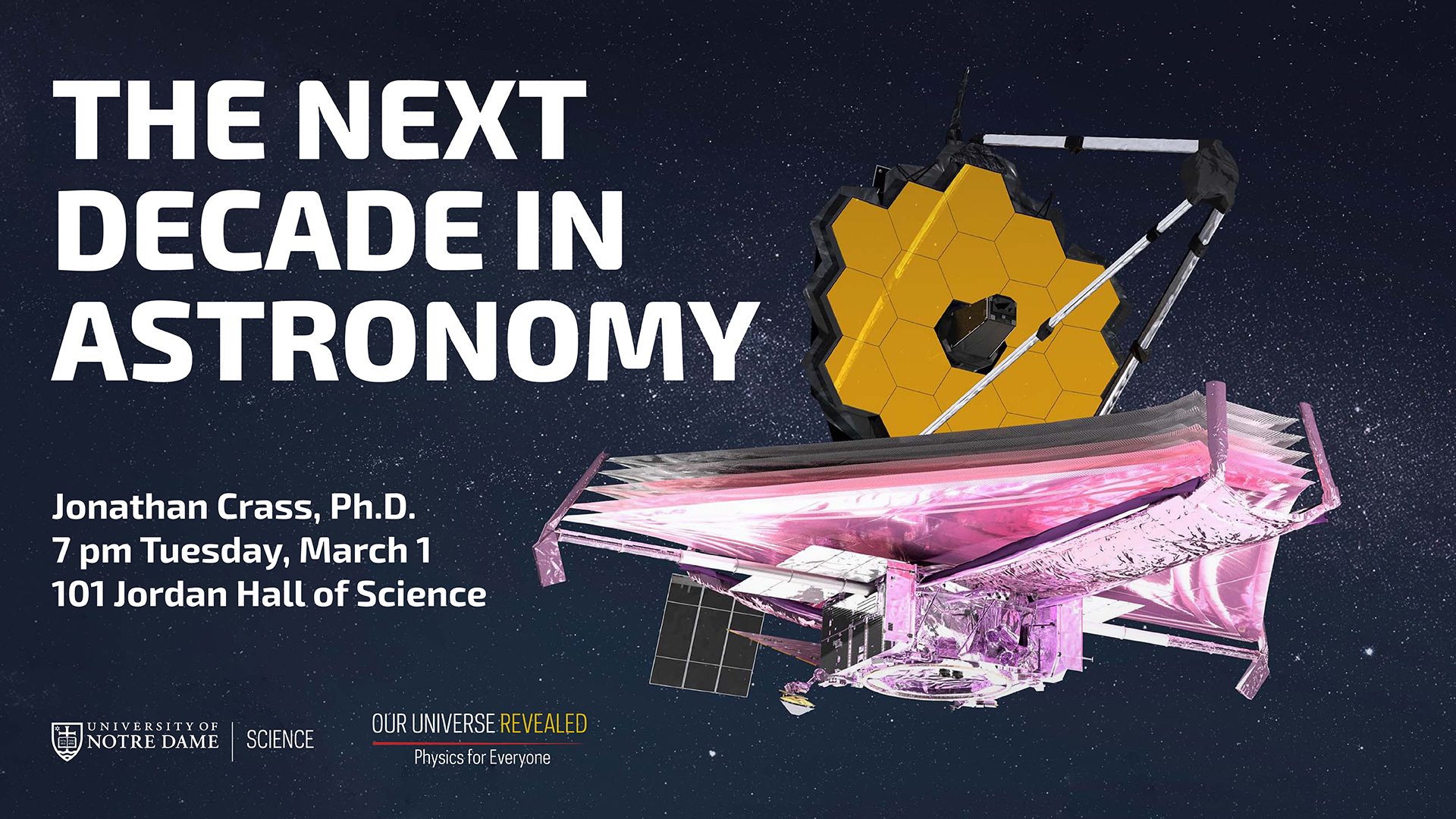 Prof. Jonathan Crass
Tuesday March 1st 2022 - 7:00 pm ET
101 Jordan Hall of Science
The James Webb Space Telescope, launched in December 2021, is a powerful new tool astronomers will be able to use to study the universe. But how do astronomers decide which telescopes and tools to use or build? And what are the key science questions they are trying to answer? Join us as Prof. Jonathan Crass, assistant research professor in the Department of Physics, discusses some of the current and future tools for astronomy and how they will answer fundamental questions such as: Are we alone in the universe? How did we get here? And do we really understand how the universe works?
---
For the safety of everyone attending, all events will be held in line with the University visitor policies:
​V​isitors are strongly encouraged to be vaccinated.
Regardless of vaccination status, visitors must wear masks inside campus buildings and at any other time designated by the University.
​Events will be held in large lecture theaters to promote social distancing.
​See https://covid.nd.edu/policies/visitors-policy/ for more details.
---
We will also broadcast this event live via our Youtube Channel and Zoom:

Connect using Zoom (instructions for how to install the Zoom client and connect to the talk can be found at https://bit.ly/2xbGZVs) – https://notredame.zoom.us/j/97890956656 (Meeting ID is 978-9095-6656, Password: NDUniverse).

Our Universe Revealed Youtube Channel [unlimited viewers] – https://www.youtube.com/OurUniverseRevealed
---